Storing and Moving Optic Tables with Expert Care
The boom in building lab space in the greater Boston area has been awesome to watch. It's also created some challenges like delays in the completion of buildouts. For labs who have ordered new equipment, like say optic tables, that leaves an additional challenge. Namely…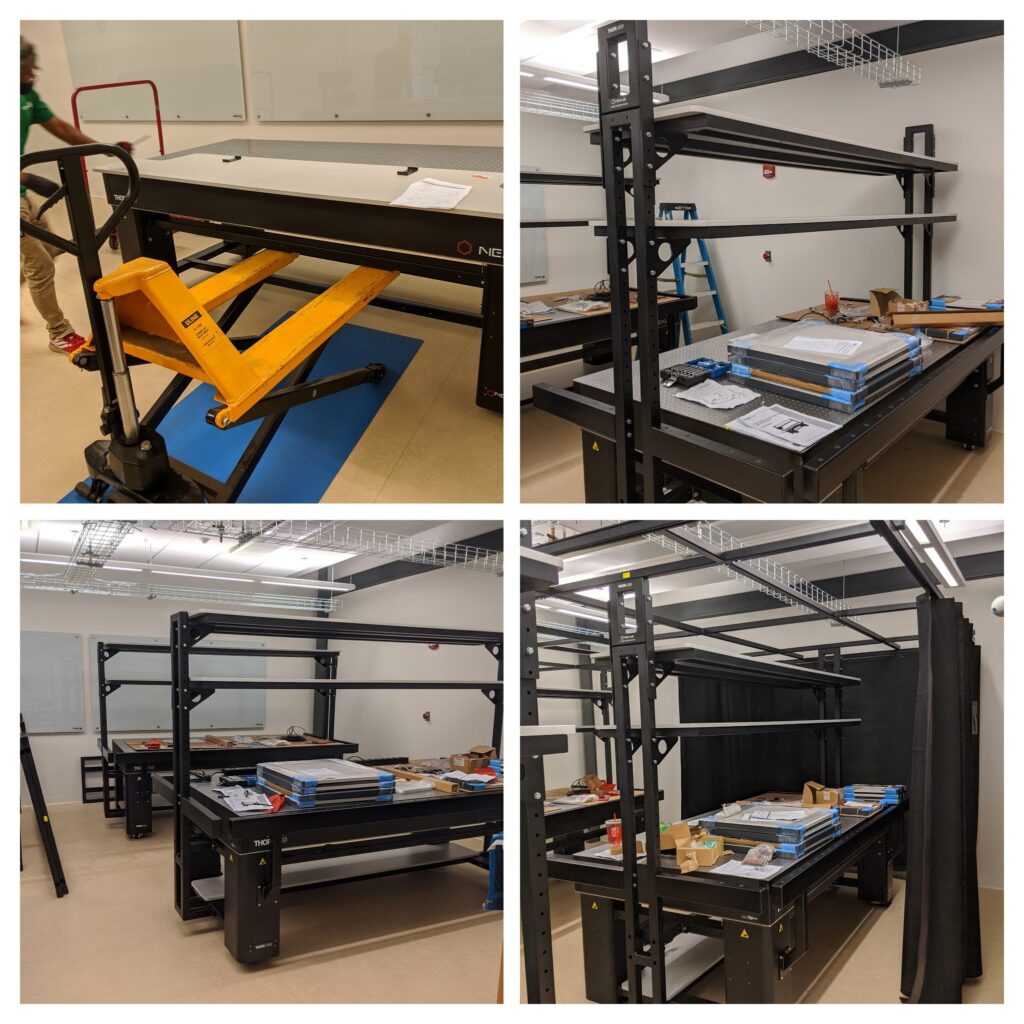 What to do with an optic table that can weigh up to a ton—or even more.
Optic tables weigh as much as they do so they can provide a stable platform for conducting sensitive experiments in optics and photonics and other delicate tests. That begs the question: how do you move an optic table and what do you do with one when you can't move but have no space in your present facility?
The answer to the first question: very carefully.
BTI and our Labmovers.com have the answer to second: Let us come and get your optic table to store at our climate-controlled facility in Hanover, MA.
New optic tables
If you have ordered new optic tables for your new lab space and that space is not ready, you can have the order shipped directly to BTI's Hanover, MA location at 301 Winter Street. We will receive the order and store it accordingly in a climate-controlled facility.
Additionally, we have security measures in place, such as surveillance cameras and access controls, to safeguard your equipment. Our facility is also appropriately insured for stored items in case of some sort of catastrophe or theft.
When you're ready to move in, we can bring it to your new location and assemble it. It's something we've done for many customers over the years, including Bridgewater State University (see photos).
Preparing for Storage
Before storing an optic table, we'll visit your facility to assess its condition; check for any signs of damage or loose components. We strongly recommend a thorough cleaning of the table to ensure that no debris or contaminants are left behind. If the table has any fragile parts (optic components, delicate accessories, drawers) we'll secure them properly to prevent any damage during storage. All of this will be electronically documented and labeled to make identification easier during the moving and storage process.
Proper Packaging and Handling
When preparing an optic table for transportation or storage, it's crucial to disassemble it correctly if necessary, following the manufacturer's guidelines. We pack each component safely in cushioned containers, ensuring they are labeled and secured. This will prevent movement and potential damage during transit. We also use anti-static materials to protect against electrostatic discharge, which can be detrimental to sensitive optic equipment. A well-packaged optic table will withstand the rigors of transportation and storage.
Transportation Considerations
Transporting an optic table requires expertise and specialized equipment. You specifically want to retain the services of a lab mover to do it, someone who has the knowledge and skill to handle delicate scientific equipment. Beyond skill, you also need the equipment. Our trucks are equipped with shock-absorbing features to minimize vibrations during transit. We also utilize secure strapping and tie-downs to prevent any shifting or tipping during transport.
Unpacking and Reinstallation
The best part is it means you're finally going to your new space. On our end, upon reaching your lab, we will carefully unpack each component of the optic table and inspect everything for any signs of damage. When reassembling, we follow the manufacturer's guidelines, paying close attention to alignment procedures and calibration if necessary. After reinstallation, conduct thorough tests to ensure the stability and performance of the optic table before resuming any experiments or scientific work.
Tabling our optic table services
Again, this is a service BTI and Labmovers.com have provided for a number of clients over the years. Here's one of those re's one client, Bridgewater State University in Bridgewater, Massachusetts who used our services to store, deliver and assemble new optic tables for their optical engineering department.