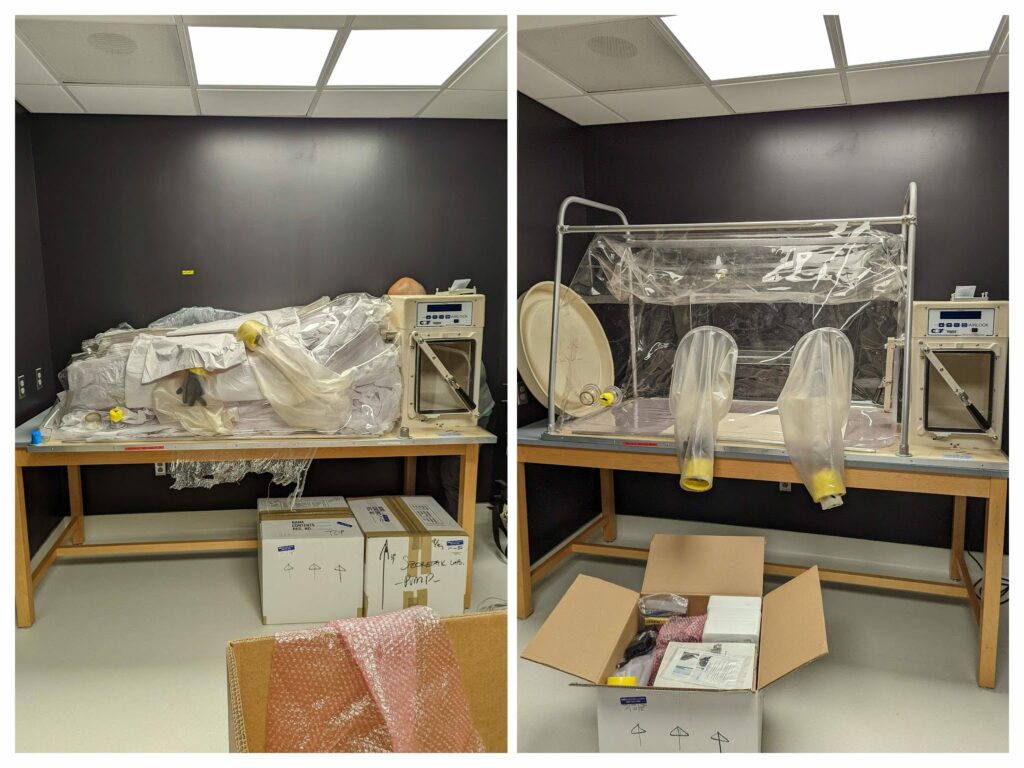 Labmovers.com and Brookline Transportation, Inc. (BTI), a Mayflower Van Lines agent specializing in commercial, lab, medical, science and residential moves, recently completed the first phase of the relocation of the laboratory of Nobel Prize winner Dr. Jack Szostak from the Richard Simches Research Center at Massachusetts General Hospital to the Searle Chemistry Lab at the University of Chicago. Phase II is scheduled for late February of 2023.
Dr. Szostak was awarded the 2009 Nobel Prize for Physiology or Medicine, along with Elizabeth Blackburn and Carol W. Greider, for the discovery of how chromosomes are protected by telomeres. His achievement helped scientists to map the location of genes in mammals and to develop techniques for manipulating genes. His research findings in this area are also instrumental to the Human Genome Project.
"We treat all moves with kid gloves. Yet it's difficult to ignore that you are moving a Nobel Prize winner. You can't help but pay even more attention to details," said George Rohlfing, owner of LabMovers.com and the family-owned and operated Brookline Transportation, Inc (BTI). "This becomes particularly true when you are moving specimens that must be maintained at precise temperatures. Then your backup plans need backup plans and we take measures with our refrigerated trucks and storage that incorporates those measures."
Planning for the move began in June of 2022, while the actual relocation did not begin until the end of September 2022. Dr. Szostak's move required relocation of specimens that needed to be kept at specific temperatures. This required use of five plugged-in freezers, one that maintained temperatures of –80C degrees: two at -30C and the other at four degrees C.
Labmovers.com also provided custom crating services for many of the items being moved. For several pieces of equipment in Dr. Szostak's lab, vendors were to provide customized crating. Several of those vendors faced supply chain issues and could not build the customized crates in time for the move, now scheduled for the end of September. Labmovers.com built customized crates for products from OkoLabs (https://www.oko-lab.com), Gyros Protein Technologies (https://www.gyrosproteintechnologies.com) and Petrak Industries (https://www.petrakinc.com/).
"Many lab vendors will provide customized crates to their customers for moves like this. That was the case with Dr. Szostak's lab. Unfortunately, there have been supply chain issues the past few years and that's impacted the ability of companies to get those materials in a timely fashion," said Rohlfing. "We offer a number of additional services to our clients, including custom crates. So, we have those materials on hand and can make a custom crate to the specs of the manufacturer. In this case, being able to provide that service prevented a delay in Dr. Szostak's relocation."
The move began in late September and included an overnight stop in Ashtabula, Ohio at a Mayflower facility. As a Mayflower agent, BTI has the capability to park overnight and utilize other facilities of Mayflower agents.
Arriving on Sunday, October 2, BTI staged the 18-foot wheel tractor trailer and shuttle truck at Glen Ellyn Mayflower, another Mayflower agent, in Chicago. There, the freezers and equipment were transferred onto a smaller shuttle truck that was also powered with an onboard generator. With the smaller vehicle BTI could access the dock at Searle Chemistry Lab, through the Quad at University of Chicago.
The equipment move in was completed on October 3, with complete unpacking and removal of packing materials done by October 4. Additional dates would be needed for the equipment being held at Glen Ellyn Mayflower for temporary storage. The crates would be delivered on two additional days in October, to work around/meet the needs of the equipment vendors, to be on site in Chicago.
"George really listened to my concerns and put those into action. He consolidated items going to the same part of the lab on pallets. Those pallets were then delivered to where they would go in the lab. So, when it came time to unpack it wasn't a treasure hunt. Everything was right where it was supposed to be," said Fanny Ng, Szostak Lab Manager.
In addition to lab moves, Labmovers.com and BTI offer a wide range of relocations services for its residential and commercial customers. For complete information on BTI's relocation services, call 800-766-7724.